AN INCREDIBLY RARE MASERATI 250 F BRONZE BY CHRIS DAVIS LIMITED EDITION NUMBER 3 OF 5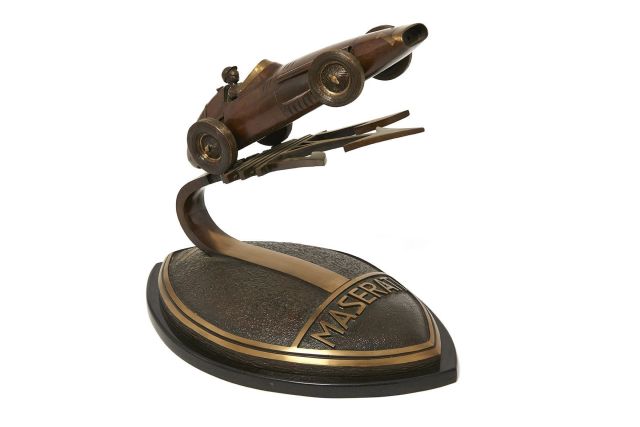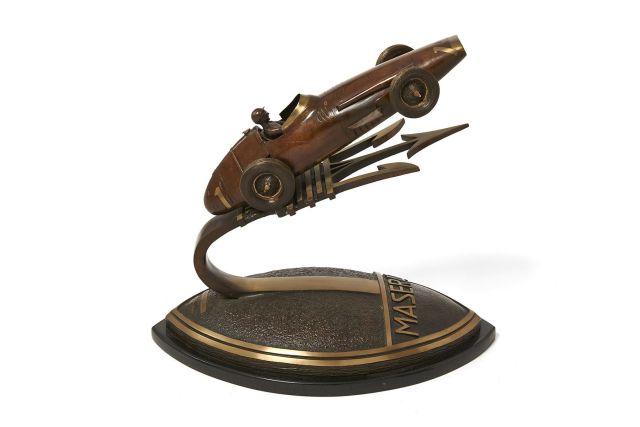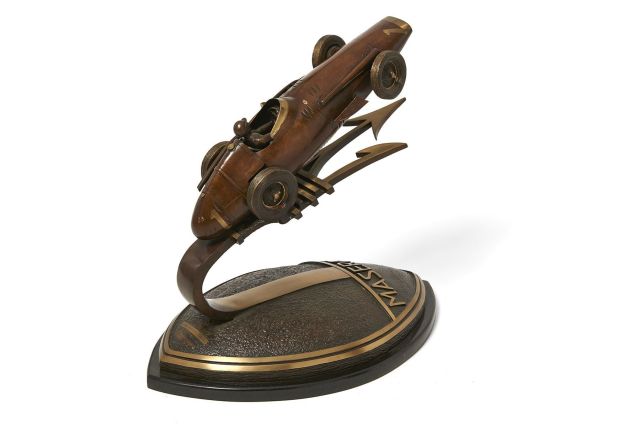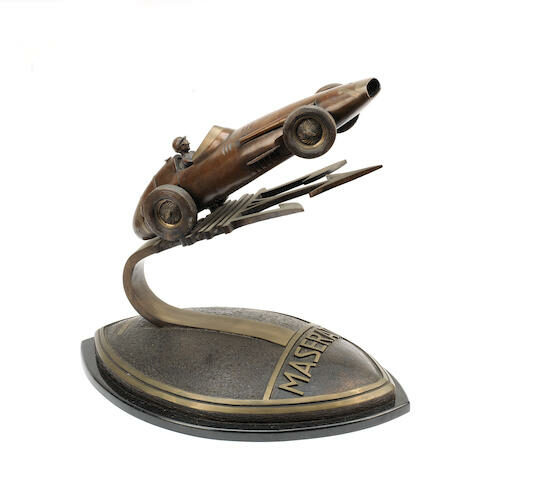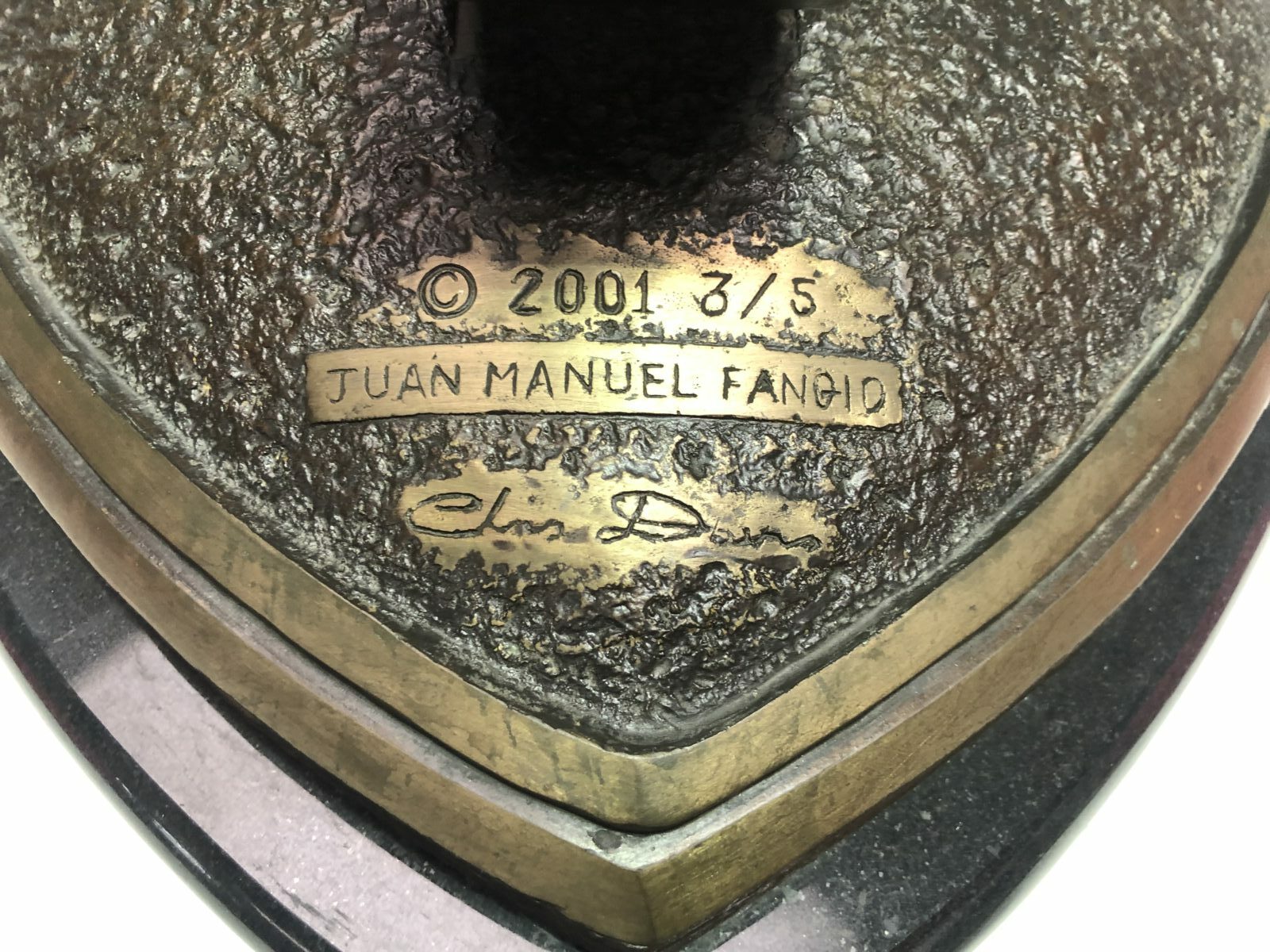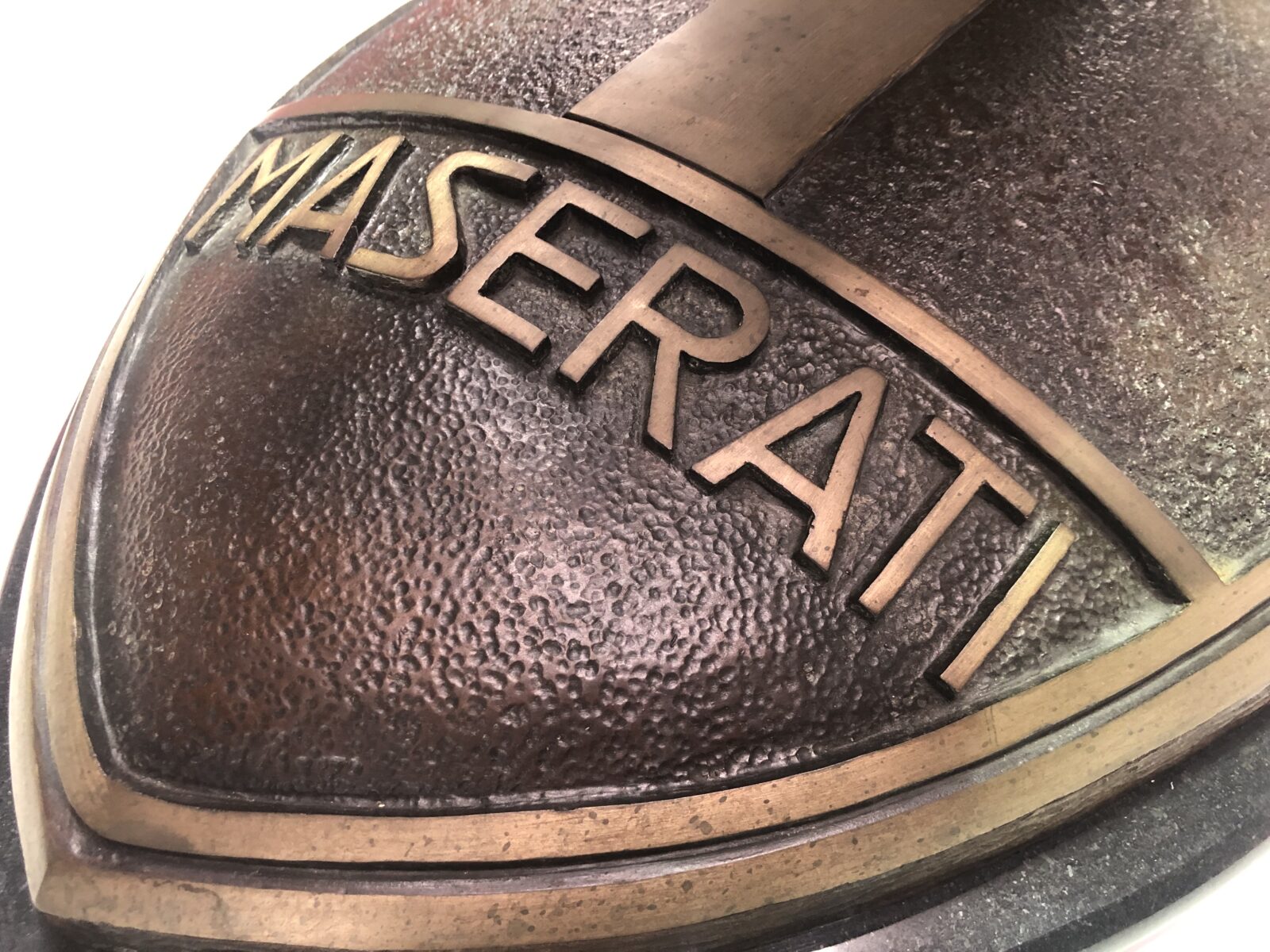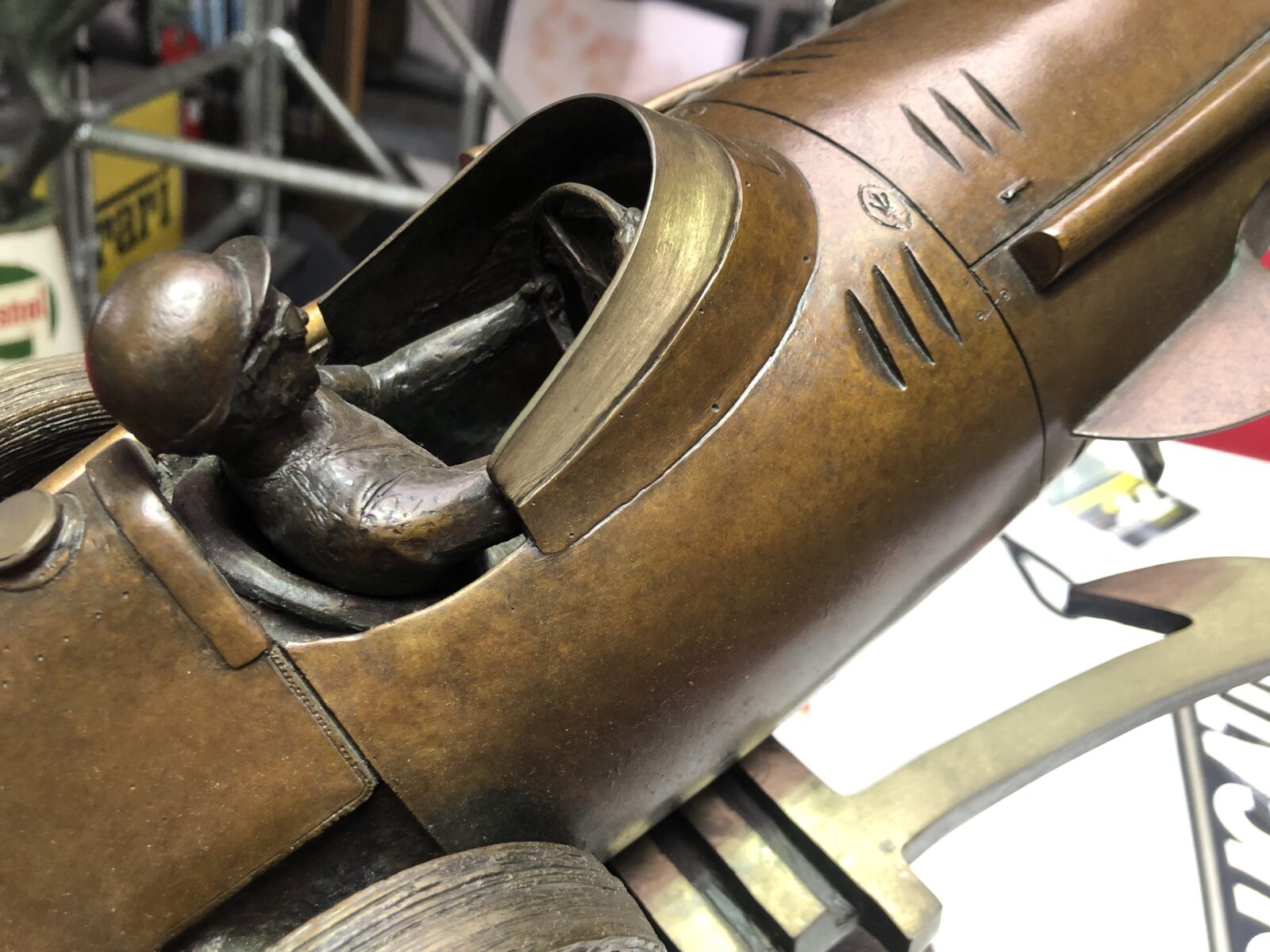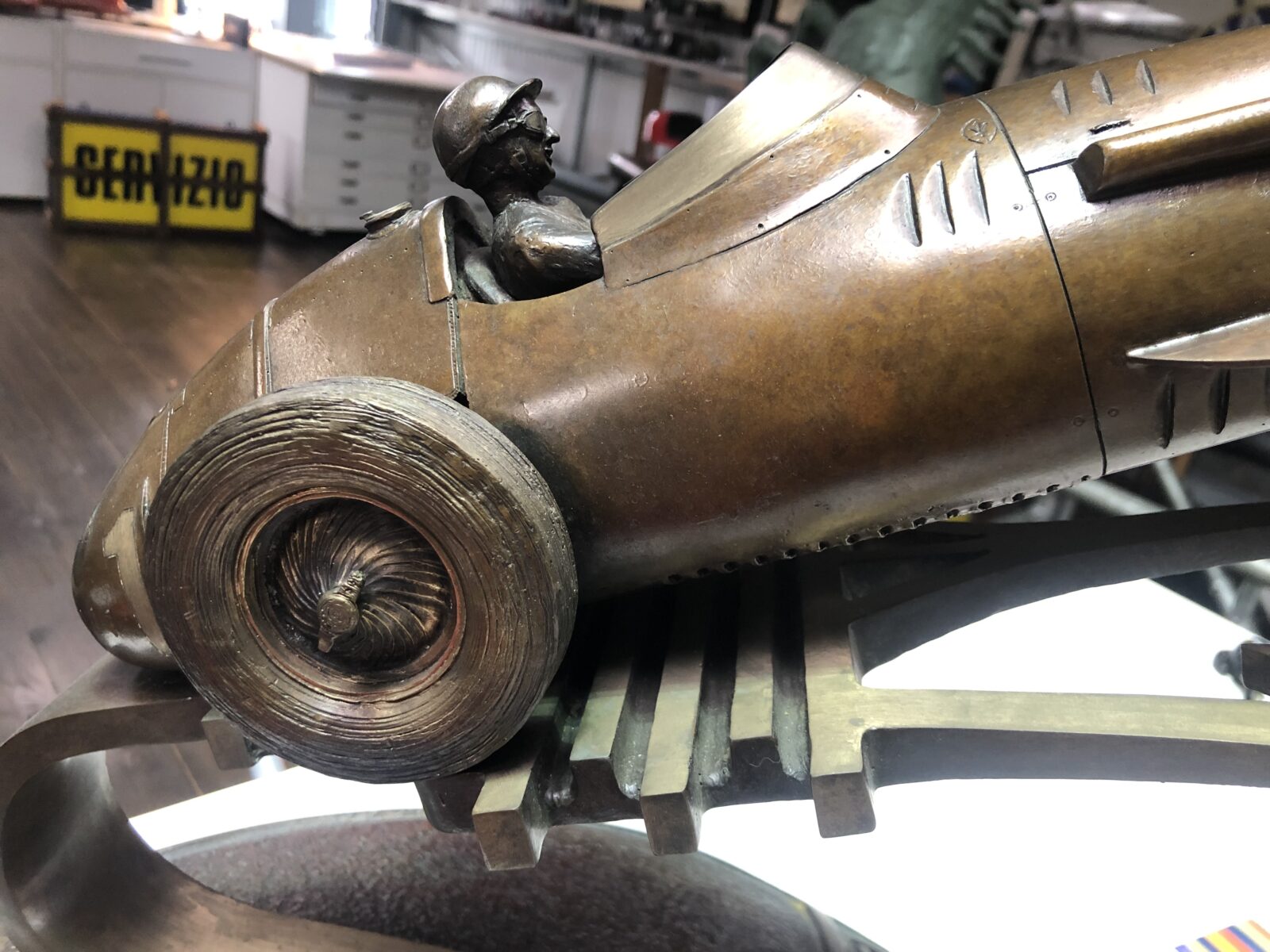 'Fangio'
This Bronze sculpture depicts Juan Manual Fangio driving his Maserati 250F to an historic win at the Nürburgring in 1957.
' My inspiration for creating this sculpture.
I love the racing cars of the 1950's Fangio is arguably the greatest driver of all time. The Maserati 250F is arguably the greatest racing car of all time. What a combination, Fangio and Maserati!
From reading Fangios' own account of his race at the Nürburgring, to win at the 'Ring that day he must have been flying. Racing cars at the old track apparently had all four wheels off the ground on more than one occasion. Therefore I have sculpted his car 'flying' off the Trident.
Fangio won for Maserati. They as a company must have been elated at the win; therefore I sculpted the Maserati logo with the Trident 'zooming' off the base, with the car, into the air in victory. The trident is vertical in Giovanni Da Bolognas' Neptune sculpture, from which the Maserati brothers got their inspiration for the Maserati badge.
Many automotive sculptures follow the same scheme, a car on a road or bolted directly on to a wood or marble base. They all look similar and uninspiring. It is hard to make a static sculpture look as if it is moving. Adding smoke or dust does not work to well in bronze because bronze is solid, smoke and dust are not. I have tried to add a little art to this sculpture and make it more dynamic and interesting. I have tried to add life to it. I hope I have succeeded with this sculpture as a tribute to Juan Manual Fangio and Maserati This sculpture took me over a year to complete'

Chris Davis.
Dimensions of the sculpture are:
Height 500mm ( 19 1/2″ )
Length 550mm ( 21 1/2″ )
Width 370mm ( 14 1/2″ )The weight including the granite base is 32 kilos ( 70 lb.)
This is a limited edition, number three of only five world wide.
Enquire